Mary Snow is a CNN correspondent on Wolf Blitzer Reports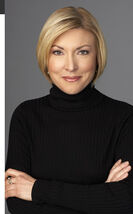 Mary Snow is a New York-based correspondent for CNN's The Situation Room. She plays a key role in CNN's America Votes 2008 coverage, currently reporting across the country on U.S. presidential candidates seeking the nation's top political office. She also contributes to CNN's news coverage on several of the network's programs, which included reports about the devastation to New Orleans following Hurricane Katrina.
Snow joined CNN in July 2002 as a financial correspondent for CNNfn and, in 2004, joined Wolf Blitzer Reports. Previously, she covered the markets at the New York Stock Exchange for Yahoo's pioneer webcast, FinanceVision.

Before she began her business reporting career, Snow held various reporting and writing positions, including work at ABC NewsOne and Bloomberg. Her first television job was with WPIX in New York, where she won two Emmy Awards.

Snow earned her bachelor's degree in political science from Fordham University.